2019 CWA Local 4671 Scholarship Winners listed below:
CWA Member working for Frontier Communications Joe Herbst of Sun Prairie, his wife Jacqueline Herbst will be attending Lakeland University.
CWA Member working for CenturyLink Nick Janota of Rice Lake his daughter Audrey Scheel will be attending UW Stout.


CWA Collective Briefing updated July 30, 2019 CLICK HERE to view and sign up for future updates.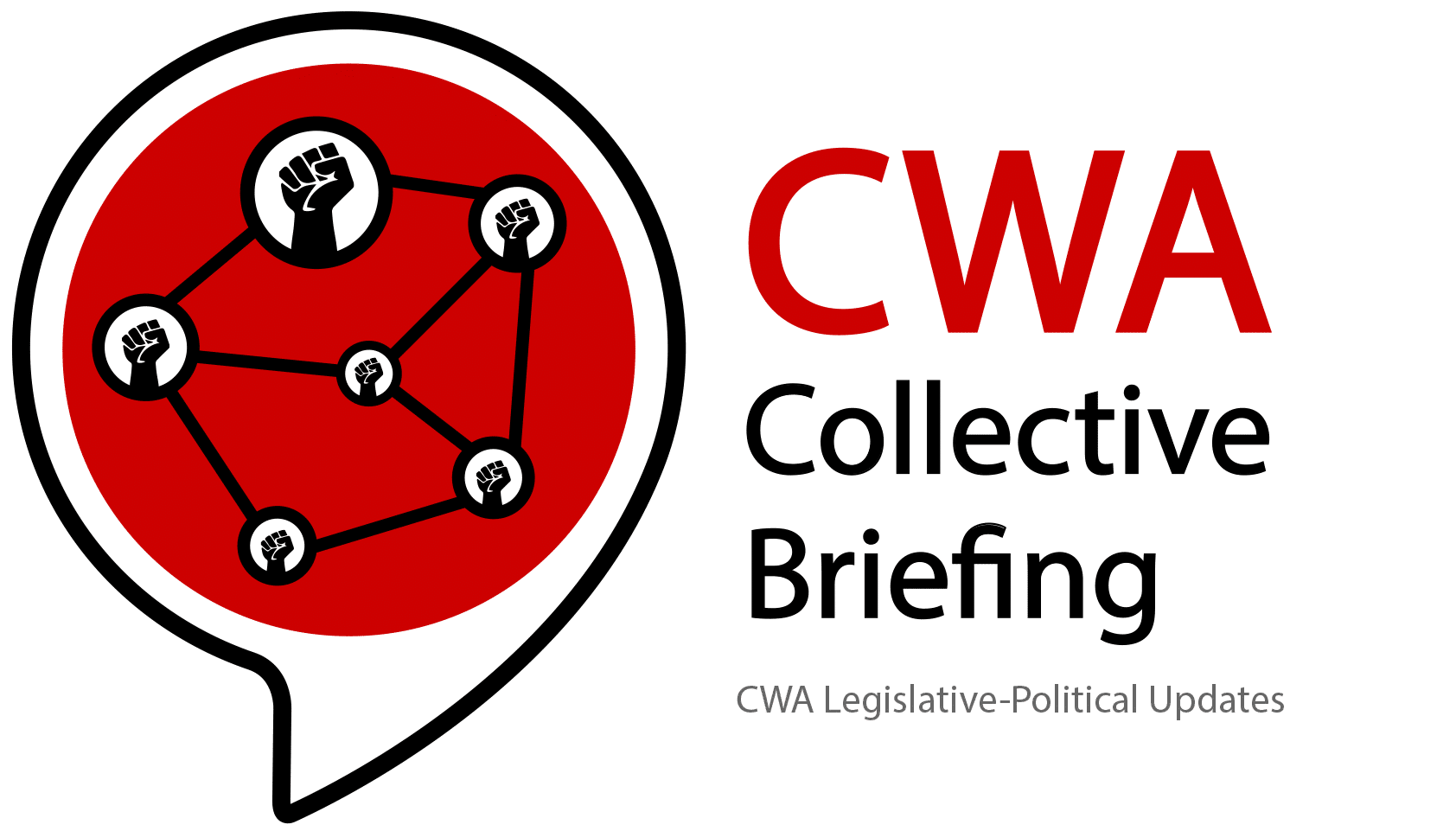 Stand Up Against Offshoring

This summer, CWAers all across the country will take action to stop corporations from sending our jobs overseas. Big corporations are leaving our communities behind to boost profits and exploit working people, not only in the United States, but all over the world.

Join your fellow CWAers in the fight against offshoring and sign our petition in support of The No Tax Breaks for Outsourcing Act (H.R.1711/S.780). This bill reverses the incentives to send jobs overseas in the Tax Cut and Jobs Act of 2017 (a.k.a. the Republican corporate tax cut bill) by ensuring that companies would not be able to slash their tax bills by offshoring those jobs. In addition, the bill blocks corporate efforts to dodge taxes by shifting funds to tax havens and deducting enormous levels of interest on debt owed to foreign subsidiaries.
2018 CWA 4671 SCHOLARSHIP WINNERS

Winner: Hailey Winesburg-Member: Brad Winesburg, Frontier Rhinelander-Hailey is going to UW Green Bay

Winner: Brandon Lucht-Member: Todd Lucht, Frontier, Antigo-Brandon is going to UW Platteville

Winner: Luke Verdecchia-Member: Sam Verdecchia, Frontier Sun Prairie-Luke is going to UW Madison

Winner: Tyler Mesun-Member: Robert Mesun, Frontier Minocqua-Tyler is going to Nicholet Technical College

Winner: Amber Verdecchia-Member: Sam Verdecchia, Frontier Sun Prairie- Amber is going to UW Madison

Winner: Carmen Ramirez-Member: Claudia Cruz, Frontier Sun Prairie-Carmen is going to Madison Tech College


2017 CWA Local 4671 Scholarship Winners!!

Member Don Manecke employed with Century Link in Hayward,
Student Rachel Manecke going to school at WITC in Barron WI.

Member Brad Winesburg employed with Frontier Legacy in Rhinelander,
Student Daniel Winesburg going to school at NWTC in Green Bay WI.

Member Thomas Licht employed with Century Link in Prairie du Chien,
Student Ryan Licht going to school at Chippewa Valley Tech College.

Member Robert Furger employed with Frontier in Wausau,
Student Kailey Furger going to school at UW Madison.

Member Thomas Kemp employed with Fronter in Sun Prairie,
Student Katherine Kemp going to school at Waukesha County Tech College.


2016 CWA LOCAL 4671 SCHOLARSHIP WINNERS!!

Elsey Anderson, daughter of Jeremy Millard Lineworker/Frontier Rhinelander,
is attending UW Oshkosh
Danielle Lyons, daughter of Gregory Lyons Service Tech/Frontier Marshfield,
is attending UW Stevens Point
Joseph Sedivy, son of Scott Sedivy CO Tech/Frontier Wausau,
is attending UW Marathon County
Zachary Furger, son of Robert Furger Service Tech/Frontier Wausau,
is attending Michigan Tech
Jacob Breuer, son of James Breuer Data Engineer/Frontier Slinger,
is attending UW Whitewater
Christopher Kott, son of Sky Kott Facilities Assigner/Frontier Sun Prairie,
is attending UW Platteville


Subject: Info about "UNAVAILABLE" Time coding

We have had issues regarding a supervisor asking the Technician what they were doing when they coded time to "unavailable." All well and good if it is about the day before or even the week before, perhaps, but more than once it has been weeks or even a month, when the Company is questioning the Tech in order to hand out discipline. Normally the Tech has told the Company he/she has written the reason for the "unavailable" time in the comments section.

My research (from a system admin in Minnesota) results are as follows:

The Comments do not appear after the current day. The code remains and time remains but comments disappear. Therefore, CYB (cover your butt) folks. KEEP NOTES!!!!!

PLEASE PASS THIS INFORMATION ON TO YOUR MEMBERS.

Thanks...hetty

2015 Local 4671 Scholarship winners:

Cathy Nelson (Frontier, Network Tech - WI Dells) son Luke Nelson going to UW Marathon County

Jennifer Shier (Frontier, Assignment Center, Sun Prairie) son Spencer Shier going to UW Whitewater

Amy Mundt ( Frontier, Assignment Center, Sun Prairie) daughter Camryn Schwartz going to UW Madison

Lionel Norton (Frontier, Assignment Center, Sun Prairie) daughter Amri Moon-Norton to UW Stevens Point

Jerald Moore (Frontier, Construction Detailer, Sun Prairie) son Austin Moore going to UW Milwaukee

Ken Geiser (Frontier-Customer Zone Tech II, Hilbert) son Evan Geiser going to UW Green Bay

As you may all know Our Governor Scott Walker has signed a bill making Wisconsin a Right To Work state.The law would go into effect two days after the governor signs it and would impact all collective bargaining agreements that are renewed, modified, or extended after that date. Any current negotiations in which the union seeks to maintain a union shop must result in an agreement before the new bill goes into effect. That being said our contracts are safe until they expire.

Brief Overview of Law
The bill prohibits all unions (or any other person) from requiring, as a condition of employment, that any person:

- become or remain a member of the union as a condition of employment,
- pay dues or a fair-share obligation,
- pay to any other party or organization an amount equal to dues or assessments charged to union members,
-refrain from supporting or resign membership in a labor organization.

Any person who violates the right-to-work provisions are a Class A misdemeanor.

The bill amends the Wisconsin Employment Peace Act which establishes the framework for collective bargaining relationships between private sector employers and their employees. The bill does not affect the rights of public sector employees

Dues Checkoff and Referral Governed by Federal Law
A state right-to-work law does not impact dues checkoff agreements, since such agreements are governed by federal law. Similarly, the passage of right to work laws does not impact union referral systems, either exclusive or non-exclusive. This language refers to dues deductions from employees paychecks.

Unions Must Represent Non-Paying Bargaining Unit Members
Unions owe non-members a duty of fair representation, even to "free riders" in right to work states. You cannot refuse to represent non-payers or charge them special fees for representation that you provide to members for free.

As your president I can tell you we have many strong supporters of our union and hope that we all can stick together and stay strong. This attack on the middle class needs to stop! Unions are one of the last avenues to keep corporations and greedy politicians in check. Please get active in your union and stay a strong supporter so we can hold on to the benefits we struggled to keep for so many years and fight for the way of life we hope to leave behind for our children.


In SOLIDARITY FOREVER! Steve Kotel

Steve Kotel
President CWA Local 4671

ATTENTION: INFORMATION FOR ALL CWA MEMBERS.
The following is the amount the CWA Defense Fund pays striking members:

No pay out for the first 14 days
$200 a week beginning on the 15th day of the strike
$300 a week beginning on the 29th day of the strike
The last convention voted for $400 a week after the 57th day of the strike